Upcoming Events
bluegrass brethren
Bluegrass Brethren is comprised of five members, each who have a personal relationship with Jesus Christ. They have committed their talents to the sharing of the Gospel through music for the encouragement of believers everywhere. The group presents a unique blend of gospel, hymns, and traditional instrumentals to their listeners. We will be serving lunch with pulled-pork sandwiches, potato salad, baked beans and dessert after the service, so plan to stay and fellowship with us for this great concert and testimony service. Transportation available in the Pomona area. Please call (909)489-1593.

Ongoing ministries throughout the year:
Rooted Youth Ministry~ CBC Teen Ministry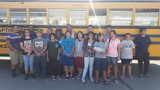 Our teens have special get-togethers all year round, as well as attend youth rallies and a week long teen camp during the summer!
Come check out what our teen ministry is all about!
Get Social with Us! Facebook: CBC Rooted Facebook Instagram: CBC Rooted Instagram
Sunday Mornings ~ 9:45-10:30
Attention all College & Career people under the age of 30!
A new Sunday school class has started led by Luis Rodriguez, one of the deacons of our church. The topic covered is "Thinking Biblically" in today's society.
We meet in the conference room inside the Paul Carr Auditorium. Free coffee and fellowship before class starts!