Upcoming Events
Pastor Ray Batema preaching
Mark your calendar! Pastor Ray Batema will be preaching for us on Sunday, September 23rd. Bro. Batema served as pastor of Central Baptist Church for 1965-1982. Bro. Batema now serves as Staff Evangelist at United Community Church, Glendale, CA. (Jim Crall is pastor). He is active in mission work, especially in the Philippines.
We plan to have a potluck meal after the morning service. Please bring a main dish and salad or main dish and dessert.
ladies' retreat at ironwood
Our ladies will be going to Ironwood for their ladies' retreat on October 18th-20th. Cost:$169. See Merdis Hughes for more information. $50 registration fee is due ASAP. Registration forms are available on side table.
PURPOSE

To challenge each woman to learn more about her church, to build relationships with her fellow church members, and to grow in her personal relationship with God.
Couples' Retreat at ironwood
PURPOSE
To provide a time for couples to renew their relationship, retreat from hectic schedules, rejoice in God's goodness throughout the past year, and reflect on decisions needed for the upcoming year.
October 25-27, 2018
Speakers: Danny & Kristen Brooks
November 1-3, 2018
Speaker: Keith Gephart
$335/Couple - Turn in your $50 deposit as soon as possible to hold your spot
Ongoing ministries throughout the year:
Rooted Youth Ministry~ CBC Teen Ministry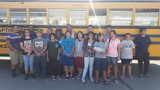 Our teens have special get-togethers all year round, as well as attend youth rallies and a week long teen camp during the summer!
Come check out what our teen ministry is all about!
Get Social with Us! Facebook: CBC Rooted Facebook Instagram: CBC Rooted Instagram
Sunday Mornings ~ 9:45-10:30
Attention all College & Career people under the age of 30!
A new Sunday school class has started led by Luis Rodriguez, one of the deacons of our church. The topic covered is "Thinking Biblically" in today's society.
We meet in the conference room inside the Paul Carr Auditorium. Free coffee and fellowship before class starts!