Upcoming Events
Ironwood Christian Camp
Week of June 28th-July 2nd
Speak with Jacob Monroe for pricing and sign up
PURPOSE
To reach young people for the Lord Jesus Christ, to develop camaraderie among each church group, to challenge young people to take the next step in their spiritual growth, and to have a
week of fun!

Gospel Music & Dinner - Free Community Event
You are invited to join us for a free Gospel Music & Dinner Event every last Saturday of June, July, & August @ 5pm!
We will have different singing groups performing and dinner will be served as well. Please join us at Central Baptist Church and invite your friends and family for this church event!

Ongoing ministries throughout the year:
Rooted Youth Ministry~ CBC Teen Ministry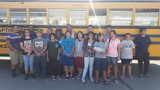 Our teens have special get-togethers all year round, as well as attend youth rallies and a week long teen camp during the summer!
Come check out what our teen ministry is all about!
Get Social with Us! Facebook: CBC Rooted Facebook Instagram: CBC Rooted Instagram