Upcoming Events
Upcoming Ironwood Camps
PURPOSE


To provide a time for couples to renew their relationship, retreat from hectic schedules, rejoice in God's goodness throughout the past year, and reflect on decisions needed for the upcoming year.
Ongoing ministries throughout the year:
Rooted Youth Ministry~ CBC Teen Ministry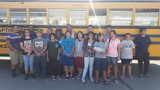 Our teens have special get-togethers all year round, as well as attend youth rallies and a week long teen camp during the summer!
Come check out what our teen ministry is all about!
Get Social with Us! Facebook: CBC Rooted Facebook Instagram: CBC Rooted Instagram