Upcoming Events
AWANA Sponsors - Will you be a blessing?
It is time again for us to ask for AWANA SPONSORS. $15 per child will provide a book and badges/prizes/incentives for the year. Our goal is to sponsor 60 youth. If you would like to be an AWANA SPONSOR you can put your gift in an envelope or donate online on our website (link to our secure paypal is linked at the bottom of every page) and mark it "AWANA SPONSOR".
american Christian Academy
The 2019-20 school year for ACA has begun! Please be in prayer for our teachers and students as they prepare for this new school year. Especially, pray for our new staff & new students. For more information, visit our school webpage here
Upper Learning Center Supervisor - Joanne Monroe
Lower Learning Center Supervisor - Denise Smith
Monitor - Rebekah Aikey
Secretaries - Raeanne Gardner, Susan Hazelrig & Denise Matamoros
Art - Sheila Miller
Library- Betty Bruchman
16th annual soldiers' of the cross men's meeting
November 1st & 2nd
Location: Central Baptist Church, Pomona CA
Sign up sheet is on the side table in the main worship building
Ongoing ministries throughout the year:
Rooted Youth Ministry~ CBC Teen Ministry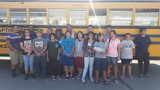 Our teens have special get-togethers all year round, as well as attend youth rallies and a week long teen camp during the summer!
Come check out what our teen ministry is all about!
Get Social with Us! Facebook: CBC Rooted Facebook Instagram: CBC Rooted Instagram
Sunday Mornings ~ 9:45-10:30
Attention all College & Career people under the age of 30!
A new Sunday school class has started led by Luis Rodriguez, one of the deacons of our church. The topic covered is "Thinking Biblically" in today's society.
We meet in the conference room inside the Paul Carr Auditorium. Free coffee and fellowship before class starts!