Upcoming Events
mother-daugther-friend get-together
Where: IHOP - 80 N Euclid Ave., Upland CA 91786
We'll meet in the conference room for a time of food, fellowship, & fun. We will have our choice of one of six value meals (includes entree, dreink, soup or salad, & dessert) If you have already purchased a ticket and will not be able to attend, please notify Susan Hazelrig and we will refund your ticket money. If you need a ride, contact Denise Smith. It will be "UNBEARABLE" if you're not able to attend, so come & bear with us.
16th annual soldiers' of the cross men's meeting
November 1st & 2nd
Location: Central Baptist Church, Pomona CA
Sign up sheet is on the side table in the main worship building
Ongoing ministries throughout the year:
Rooted Youth Ministry~ CBC Teen Ministry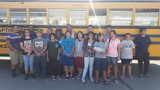 Our teens have special get-togethers all year round, as well as attend youth rallies and a week long teen camp during the summer!
Come check out what our teen ministry is all about!
Get Social with Us! Facebook: CBC Rooted Facebook Instagram: CBC Rooted Instagram
Sunday Mornings ~ 9:45-10:30
Attention all College & Career people under the age of 30!
A new Sunday school class has started led by Luis Rodriguez, one of the deacons of our church. The topic covered is "Thinking Biblically" in today's society.
We meet in the conference room inside the Paul Carr Auditorium. Free coffee and fellowship before class starts!