Upcoming Events
Couples' Outing
Lunch & Botanical Garden Walk
Saturday, January 19th, 12 noon
We will meet and have lunch at Wendy's in Upland off of Mountain Ave. Then we will go to Rancho Santa Ana Botanical Gardens in Claremont (1500 N. College Avenue, Claremont CA 91711).
Admission is $10/adult, Seniors 65+ $6. Bring comfortable walking shoes and money for lunch and admission.
Bible Believers' Conference
Monday- Tuesday, January 28th- 29th
Grace Baptist Church, Corona
2791 S. Lincoln Ave., Corona, CA 92882
ATTENTION MEN! Plan to join us as we go to hear some challenging Bible preaching. The church van leaves at 5pm. You can also meet us out there if you can't leave that early.
Ongoing ministries throughout the year:
Rooted Youth Ministry~ CBC Teen Ministry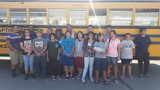 Our teens have special get-togethers all year round, as well as attend youth rallies and a week long teen camp during the summer!
Come check out what our teen ministry is all about!
Get Social with Us! Facebook: CBC Rooted Facebook Instagram: CBC Rooted Instagram
Sunday Mornings ~ 9:45-10:30
Attention all College & Career people under the age of 30!
A new Sunday school class has started led by Luis Rodriguez, one of the deacons of our church. The topic covered is "Thinking Biblically" in today's society.
We meet in the conference room inside the Paul Carr Auditorium. Free coffee and fellowship before class starts!