Upcoming Events
mother/daughter/friend luncheon
Saturday, September 1st, 11:00 am (Registration at 10:30 am)
Cost: $9.00 See Mrs. Hughes by August 22 to get your ticket. Speaker: Shannon Steuerwald
Theme: Building Hope for the Storms of Life
Shannon Steuerwald was born and raised in the West and finds much joy in wide open places, desert sunsets, and adventurous children with imaginations. She raided three adventurous children with her husband Steve... Steve and Shannon enter a new phase of living as empty nesters... In her spare time, Shannon gets to entertainingly cram English into young, resistant high schoolers; gets to administrate a four-room schoolhouse where snakes are welcome, too; dabbles in some writing here and there, and gets to teach teachers across the nation the joys of classroom ministry... Besides some amazing eating opportunities, they love to worship with their church family through singing, teaching, and learning, too! Shannon loves her God but knows she needs to love Him better so she looks forward to joining together with you to share God's Word and learn how to live as God designed us to live.
Shannon is an author and speaker who comes to us from Ironwood Christian Camp and is the daughter of Walt Brock, founder. She and her husband also minister at Ironwood.
Pastor Ray Batema preaching
Mark your calendar! Pastor Ray Batema will be preaching for us on Sunday, September 23rd. Bro. Batema served as pastor of Central Baptist Church for 1965-1982. We plan to have a potluck meal after the morning service. Bro. Batema now serves as Staff Evangelist at United Community Church, Glendale, CA. (Jim Crall is pastor). He is active in mission work, especially in the Philippines.
Ongoing ministries throughout the year:
Rooted Youth Ministry~ CBC Teen Ministry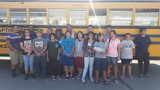 Our teens have special get-togethers all year round, as well as attend youth rallies and a week long teen camp during the summer!
Come check out what our teen ministry is all about!
Get Social with Us! Facebook: CBC Rooted Facebook Instagram: CBC Rooted Instagram
Sunday Mornings ~ 9:45-10:30
Attention all College & Career people under the age of 30!
A new Sunday school class has started led by Luis Rodriguez, one of the deacons of our church. The topic covered is "Thinking Biblically" in today's society.
We meet in the conference room inside the Paul Carr Auditorium. Free coffee and fellowship before class starts!