Upcoming Events
Annual Soldiers of the Cross Men's Meeting
Our men will be attending this meeting on November 2nd & 3rd at Liberty Baptist Church, Newport Beach. Guest speakers: David Gibbs, David Cortes, Doug Fisher, Bill Ranch, & Ryan Thompson. Cost is $30. Please see Pastor Smith if you are interested in attending. (You can put your registration money in an offering envelope and mark it "Men's Conference") Do this as soon as possible please.
Ongoing ministries throughout the year:
Rooted Youth Ministry~ CBC Teen Ministry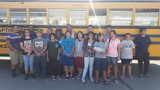 Our teens have special get-togethers all year round, as well as attend youth rallies and a week long teen camp during the summer!
Come check out what our teen ministry is all about!
Get Social with Us! Facebook: CBC Rooted Facebook Instagram: CBC Rooted Instagram
Sunday Mornings ~ 9:45-10:30
Attention all College & Career people under the age of 30!
A new Sunday school class has started led by Luis Rodriguez, one of the deacons of our church. The topic covered is "Thinking Biblically" in today's society.
We meet in the conference room inside the Paul Carr Auditorium. Free coffee and fellowship before class starts!