Upcoming Events
pacific baptist college graduation fellowship
Monday, 7:00 PM - Two Speakers (Dinner at 6:00 pm)
Tuesday, 9:15 AM - Three Speakers (Lunch - 12:00 pm)
Tuesday, 7:00 PM - Graduation


*Please Note- Jacob Monroe will be graduating! There is limited parking. The church van will leave our parking lot at 6:00 pm. A sign-up sheet is located on the side table. If you drive, there is stree parking available.
camp scholarship - grace godinez
Grace Godinez, Daughter of Home Missionary, Ron Godinez
Grace has been accepted at Ironwood Christian Camp to be a counselor for their 2018 summer camp. Grace will serve June 4th - August 11th. Grace is asking for prayer throughout the summer. Prayer is the biggest help and support you could give her. If you would like email updates from Grace, please let us know in the office and we will pass your information along to her. In the fall, Grace will be attending Bob Jones University. Ironwood has a "Match Scholarship". Any money given to Grace through our church will be forwarded to Ironwood and will be matched by Ironwood. Please pray and ask if God might use you to help with Grace's scholarship. She is thankful for whatever decision you make.




Ongoing ministries throughout the year:
Rooted Youth Ministry~ CBC Teen Ministry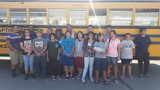 Our teens have special get-togethers all year round, as well as attend youth rallies and a week long teen camp during the summer!
Come check out what our teen ministry is all about!
Get Social with Us! Facebook: CBC Rooted Facebook Instagram: CBC Rooted Instagram
Sunday Mornings ~ 9:45-10:30
Attention all College & Career people under the age of 30!
A new Sunday school class has started led by Luis Rodriguez, one of the deacons of our church. The topic covered is "Thinking Biblically" in today's society.
We meet in the conference room inside the Paul Carr Auditorium. Free coffee and fellowship before class starts!