~Welcome to our Website~
I want to welcome you to the website of Central Baptist Church in Pomona, California.
We are a family oriented church that's been around for over 50 years. We offer many ministries to serve you and help you be a part
of something.
Let me be the first to say "Welcome" and invite you to stop in sometime and see us! We love to see individuals and families get plugged into the Word of God and His church!
Hope to see you soon! -Pastor Tom Smith
Contact Us
Who We Are
Central Baptist Church is a church in the heart of Pomona seeking to minister to it's surrounding areas. We are an Independent, Fundamental, Bible-believing church that still believes in the power of Christ to change lives today. We have classes for all ages as well as nursery provided for each service.
American Christian Academy

2017-2018 school year starts August 30th!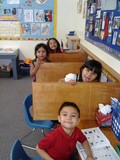 ACA is a safe learning environment where students are not only sheltered from the world's influences, but also taught principles from God's Word in their daily devotions and school work.
Kindergarten through 12th grade enrolling now!
**New Student Special! 1/2 off first month's tuition!**
Upcoming Events
Friday, August 25th, 5pm-12pm
Wednesday, Sept. 6th, 6:45pm
Saturday, Sept 9th, 10 am
Save The Date
Sunday, October 22nd
CBC 60th Anniversary
______________________________
ONGOING ACTIVITIES
Every 1st Saturday of the month
Teen Ministry
Every 4th Thursday 7pm
Monday Nights 5:30 -7pm
in Paul Carr gym
during school year
Sunday mornings 9:45-10:30
with Luis Rodriguez